Roll-Off Dumpster Rentals
Great prices on dumpster rental solutions in Winder, GA and the greater Atlanta metro area!
We offer cost-effective solutions for your waste management!
We have a great team of people and a wide selection of dumpster rental solutions to make your waste disposal as easy as possible while doing it in the most efficient way possible.
Our services can best be described as reliable, clean and affordable!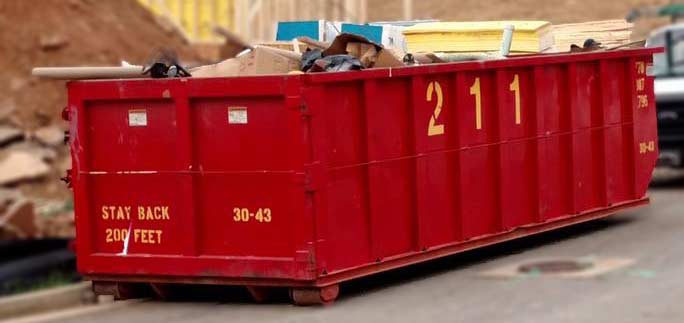 Whether you are a homeowner or a contractor, we have roll-off dumpsters that will satisfy your needs. You can maintain a safe and sanitary work site with our containers. 211 Waste & Recycling is proud to offer a variety of roll-off dumpsters for rent to help you with your waste disposal needs. With our dumpsters in place, you and your crew will be able to work more safely and quickly without having to worry about tripping or falling over loose debris. Below, you'll find just a few of the amenities that come with our roll-off dumpsters:

15 Yard Roll-Off Dumpster
20 Yard Roll-Off Dumpster
30 Yard Roll-Off Dumpster
Pay Only the Price You're Quoted
All Have Passed the Driver Safety Program & Drug Screening
Well-Trained, Professional Drivers
Should you decide to handle waste removal or recycling on your own, 211 Waste & Recycling can also assist you through our dumpster, container and roll-off rental service. We'll speak with you about your project and help you determine the proper type and size to meet your needs.
**Please include job site location (address, city, state, zip), size of container requested and type of debris in container within the Message field above. We will get back to you as soon as possible.
A true blessing of a company! People that care about people! Tommy the owner is a man of true integrity!!
Great company' great people!!! Would definitely refer them to anybody. Very professional.
We rented a dumpster from 211 not only were they the cheapest we found they also were a pleasure to do business with.
Making your World & Wallet Green